The Ouellet-Robert Collection has a wonderful set of dragonfly and damselfly specimens (insect order Odonata) thanks in large part to the efforts of its eponymous founder, Adrien Robert. Indeed, the Odonata collection is so good that we chose a damselfly, the superb jewelwing (Calopteryx amata), as the emblem for the collection.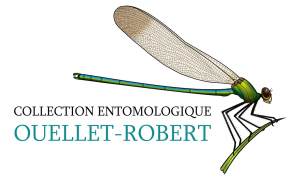 Before I arrived at the University of Montreal, seed funding for Canadensys from the Canada Foundation for Innovation had paid for the digitization of the specimen data associated with the collection's Odonata. As a first tentative to better integrate the activities of the various insect collections in Quebec, and possibly to federate a more ambitious collaboration, with funding from the Quebec Centre for Biodiversity Science, colleagues and I visited six other Quebec collections and added their Odonata specimen data to the mix. The result is an impressive dataset including 37,000 occurrence records, from 616 different locations, for 137 species. This dataset, whose description is published in the Biodiversity Data Journal, is free to download and use for species distribution modeling, analyzing changes across time, and any number of other research topics. Given that many Odonata species in Quebec are at the northern limits of their geographic range, their possible range expansions northward may be good indicators for measuring the effects of climate change.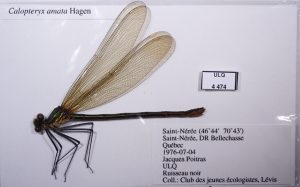 This publication represents the second one in less than a year focusing on the activities in the Ouellet-Robert Collection. The first was an overview of three computerization initiatives, including the Odonata specimen digitization, whereas this second one focuses on the Odonata data themselves.